Support the future of the Naval ROTC Unit and become a part of UF's history! Van Fleet Hall Military Science Brick Program gives you the chance to dedicate a spot in the front of the building.
By purchasing a brick paver to commemorate a birthday, anniversary or graduation day, you can honor relatives, and friends while supporting the ROTC program at University of Florida. A special memorial area enables you to honor a loved one who has passed away.
BRICK PROGRAM CONTACT
Colleen Yarbrough yarbroc@ufl.edu (352) 392-0973
Brick Information
4X8 Brick
Price $200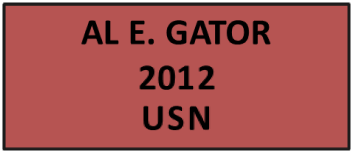 3 lines, 14 characters per line (First,Middle Last Name, Commissioning Date, Service (USN or USMC)
Please note that any space between letters or any punctuation mark should be counted as a space.
Your brick will be placed no later than six (6) months after your order has been received. A letter of acknowledgement, keepsake certificate and locator map will be mailed after your brick has been placed at Van Fleet Hall.